Independent Trucks Forged Hollow (Mids)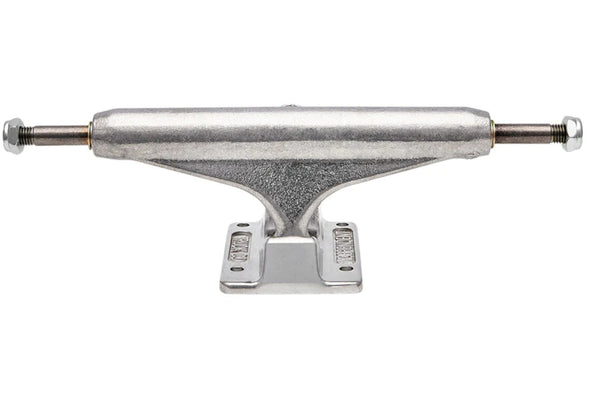 Brand: Independent
$ 29.95
TRUCKS ARE SOLD INDIVIDUALLY, NOT BY THE PAIR.  TO BUY A PAIR OF TRUCKS (2 PIECES), 2 TRUCKS MUST BE ADDED TO THE CART.
The new MiD Forged Hollow is 50.5mm tall and built on Independent's legendary geometry with full size cushions for maximum turning action and comes in 129, 139, 144, 149, 159 sizes.

The all new design includes new size designations underneath the hanger for easy identification.

50.5mm tall for optimal performance and wheel clearance with wheels 52mm and under.

A356 T6 Aluminum Hanger
The best lightweight aluminum alloy heat treated to T6 condition for strength, durability, and grind feel.

Forged 6061 Aluminum Baseplate
Aircraft grade forged aluminum allows a thinner part while still maintaining high density and strength.

Hollow Chromoly Steel Axle
Highest quality hollow Chromoly steel for durability and weight saving.

Inverted Grade 8 kingpin w/ 9/16" & 5.5mm Allen
Never break, never bend.

Steel Shaft Nut with nylon locking insert

Independent Trucks are Built to Grind and Guaranteed for Life.

Independent Trucks Sizing:

 129s recommended board 7.5" – 7.8"
139s recommended board 7.8" – 8.25"
144s recommended board 8.25"
149s recommended board 8.25" – 8.7"
159s recommended board 8.6" – 9.0"
169s recommended board 9.0" – 9.5"